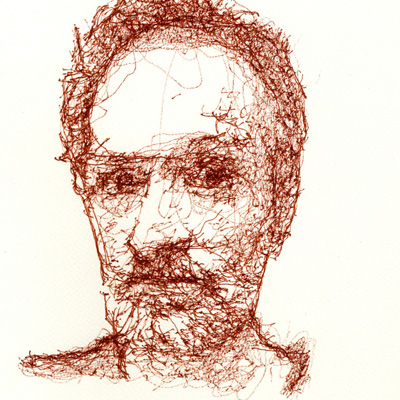 Género / Cualquiera
Masculino
Patrick Tresset
Based in Brussels
Patrick Tresset is an award-winning artist and researcher better known for his work with drawing robots and AI. His artistic installations featuring robots have been exhibited around the world in solo and group shows including in association with major institutions such as the V&A London, Grand Palais (Paris), the Pompidou Center (Paris), the Prada Foundation (Milan),Tate Modern (London), Today Art Museum (Beijing), Mcam (Shanghai), Mori Museum (Tokyo).
His work has been featured in international media such as Wired, BBC, Arte, The New York Times, Le monde, and many others.
Tresset holds an MPhil and MSc in Arts and Technology from the University of London. Apart from his artistic practice, he has taught or collaborated with the University of London, the Royal College of Art, Konstanz University as a senior fellow and is currently a distinguished international visitor and adjunct assistant professor at the University of Canberra in Australia. In 2017, he was designated a World Economic Forum Cultural Leader. He has published research papers in the fields of social robotics, creative AI, and computational aesthetics.
He has also recently collaborated with Hanson Robotics to get the well know android robot, Sophia, to draw.
Patrick Tresset is an experienced international speaker who has given more than 50 talks, from short 10min to hour-long keynotes to the general public as well the academic audience. The themes he covers range from the creative applications of AI, Art and technology, to his artistic practice with robotics.
For conferences, he also often exhibits his portraits drawing robots, (Davos World economic forum, Singularity University summits, FI Forum (Frankfurt), Talent Land, ICRA).